Diabase Peninsula (Canada)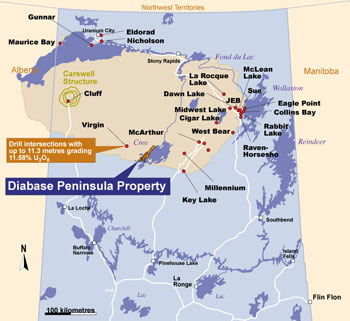 Project Information

Location:
Athabasca Basin
Saskatchewan, Canada
Ownership:
100%
Commodity:
U
3
O
8
Project Status:
Exploration
Diabase Peninsula Nuinsco's Diabase Peninsula uranium project is located about 150 kilometres northwest of La Ronge, Saskatchewan on the edge of the Athabasca Basin, which hosts the world's richest uranium mines. It encompasses a 35 km strike length of the regional-scale Cable Bay Shear Zone deformation zone in the basement rock units below the basin sandstone - considered to be a potentially significant structure for the localization and deposition of uranium mineralization.
Exploration work on the 21,000 hectare Diabase Peninsula Project, situated approximately five kilometres north of the southern boundary of the Athabasca Basin, has included 42 drill holes totaling 17,356m. Of these, a remarkable 33% have returned samples with uranium content exceeding 50ppm and 67% have returned values greater than 10ppm uranium (uranium values exceeding 10ppm suggest the presence of a uranium mineralizing event and the distinct possibility of a lens of uranium mineralization in the immediate vicinity). These positive results serve to further reinforce and highlight the outstanding scale of uranium mineralization at Diabase.
Drilling has encountered highly anomalous uranium values of up to 707 parts per million (ppm) uranium (0.083% U3O8) located at or near the contact between the sandstone layer and underlying graphite-bearing basement rocks (the "Unconformity"), which is the prime site for the occurrence of uranium deposits in the Athabasca Basin.
In the most recent drill program, uranium values peaked at 55.94ppm over 6.9m, including individual intervals grading 134ppm and 181ppm uranium. Results like these continue to highlight the exploration potential of the Diabase Peninsula property.