The Sunbeam Gold Property includes the historic Sunbeam Mine – a high-grade underground gold mine which operated from 1898 to 1905. The core of the Property, optioned by Nuinsco in 2017, consists of 104 unpatented mining claims (104 cells) in Ramsay-Wright Township in Northwestern Ontario. In late 2020, Nuinsco optioned additional ground (9 unpatented mining claims, 117 cells) wrapping around the west, north, and east sides of the original claims doubling the size of the Property.
| | | |
| --- | --- | --- |
| May 2021 | Sunbeam Presentation | |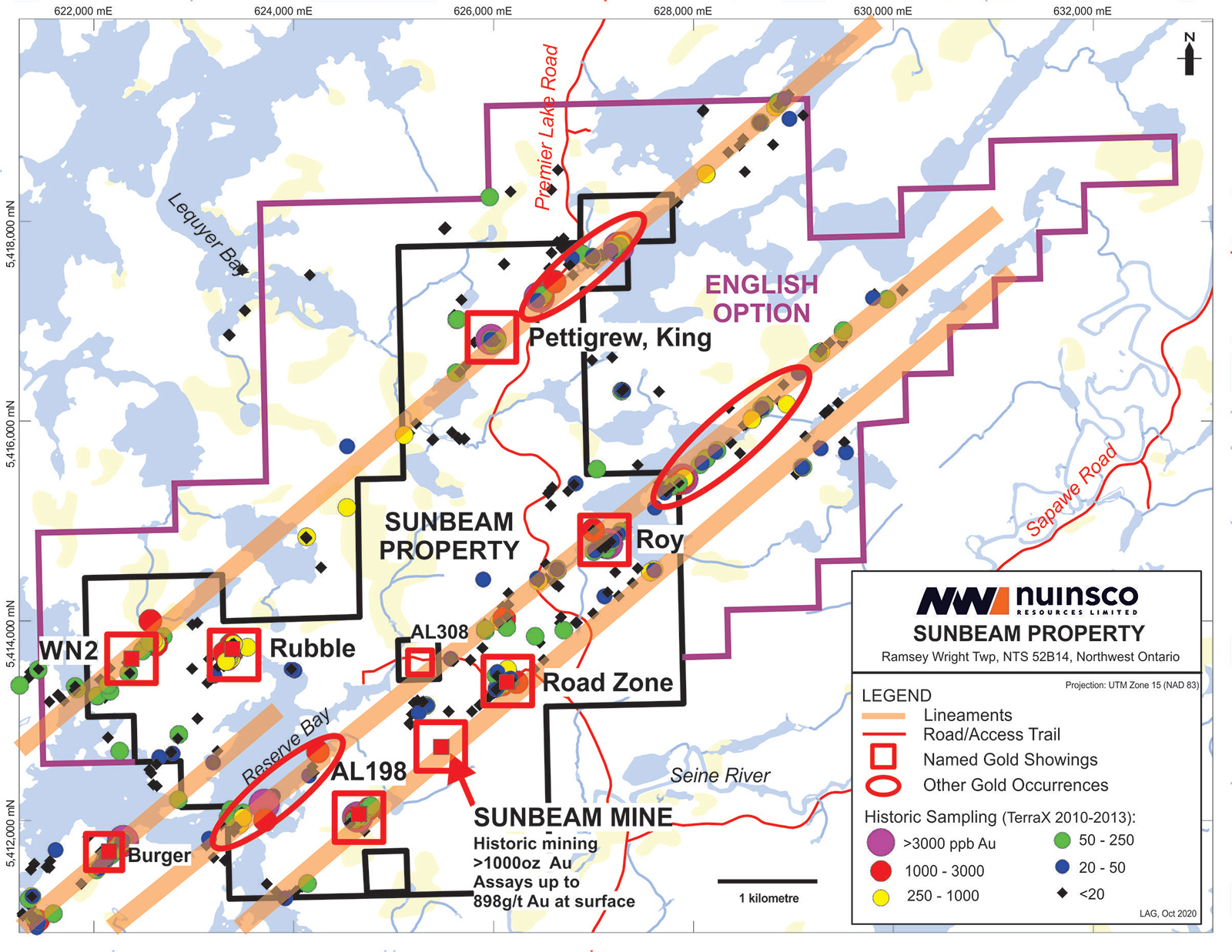 The Property is readily accessible via well-maintained logging roads from Hwy 11 and is located 27km northeast of the town of Atikokan and 15km southeast of Agnico Eagle's Hammond Reef gold deposit.
The property is traversed by at least three sub-parallel, northeast-trending, gold-mineralized lineaments secondary to the regionally extensive, sub-province bounding Quetico Fault. Collectively these lineaments total approximately 30 kilometres of mineralized target domain and host 10 gold occurrences; they present an extensive exploration target that extends to all parts of the Property, have seen only intermittent historic exploration and represent an excellent opportunity to be comprehensively explored.
The Sunbeam Mine is hosted by a 30m wide sheared zone of altered schistose greenstone rock within the ~3.0Ga Marmion Batholith. Gold mineralization occurs within a 2.5-3.0m wide southwest striking quartz vein/chloritic schist system which dips moderately to the northwest.
Development at the Sunbeam Mine consisted of a combined inclined/vertical shaft to approximately 400-feet depth with drifting along three levels (at ~100, 200, & 300ft). No records of the production totals from 1899-1903 exist. Reportedly 1,000 ounces of gold were recovered from 2,400 tons mined in 1904. A 1903 plan of the mine shows an average grade of ~13g/t Au in the historic workings. Previous workers have estimated that there could be 50,000-70,000t grading 13g/t Au remaining in old workings.
Prior to Nuinsco acquiring the property there had been no exploration of the formerly patented mine site since the closure of the mine in 1905. Intermitted exploration had been conducted on ground surrounding the patent area between 1981 and 2012.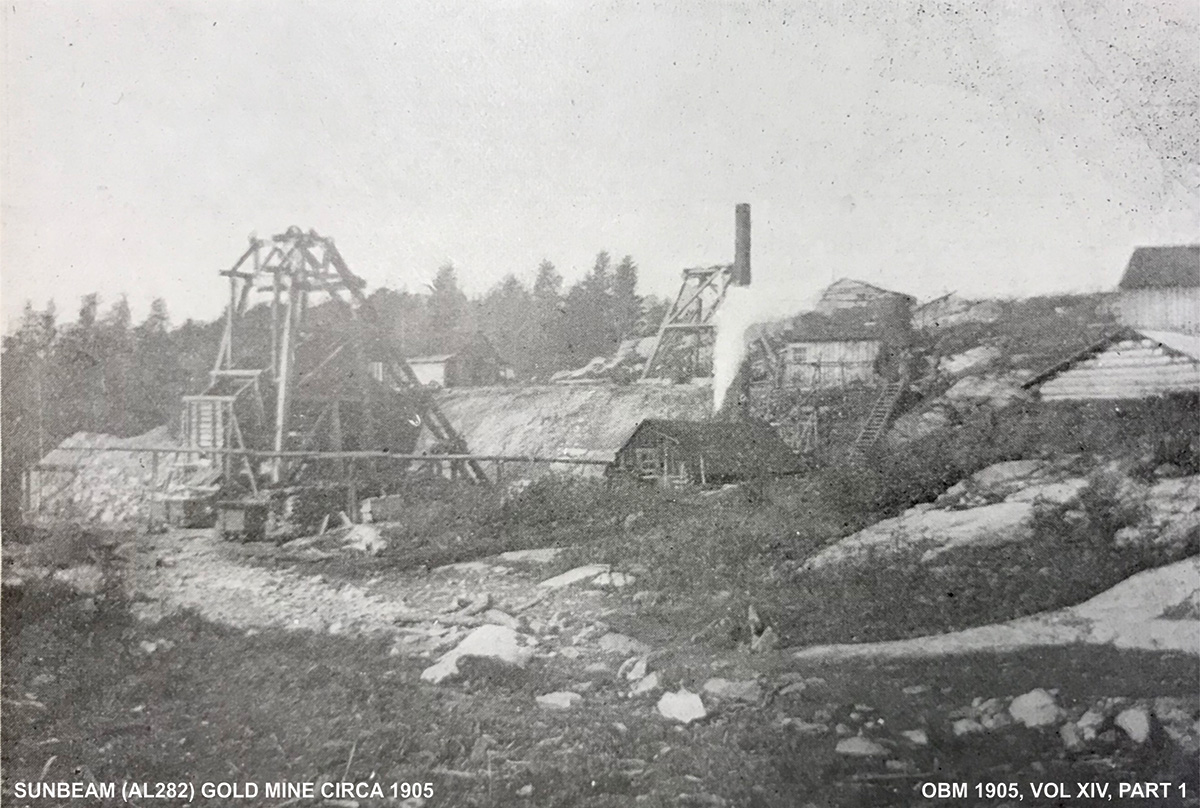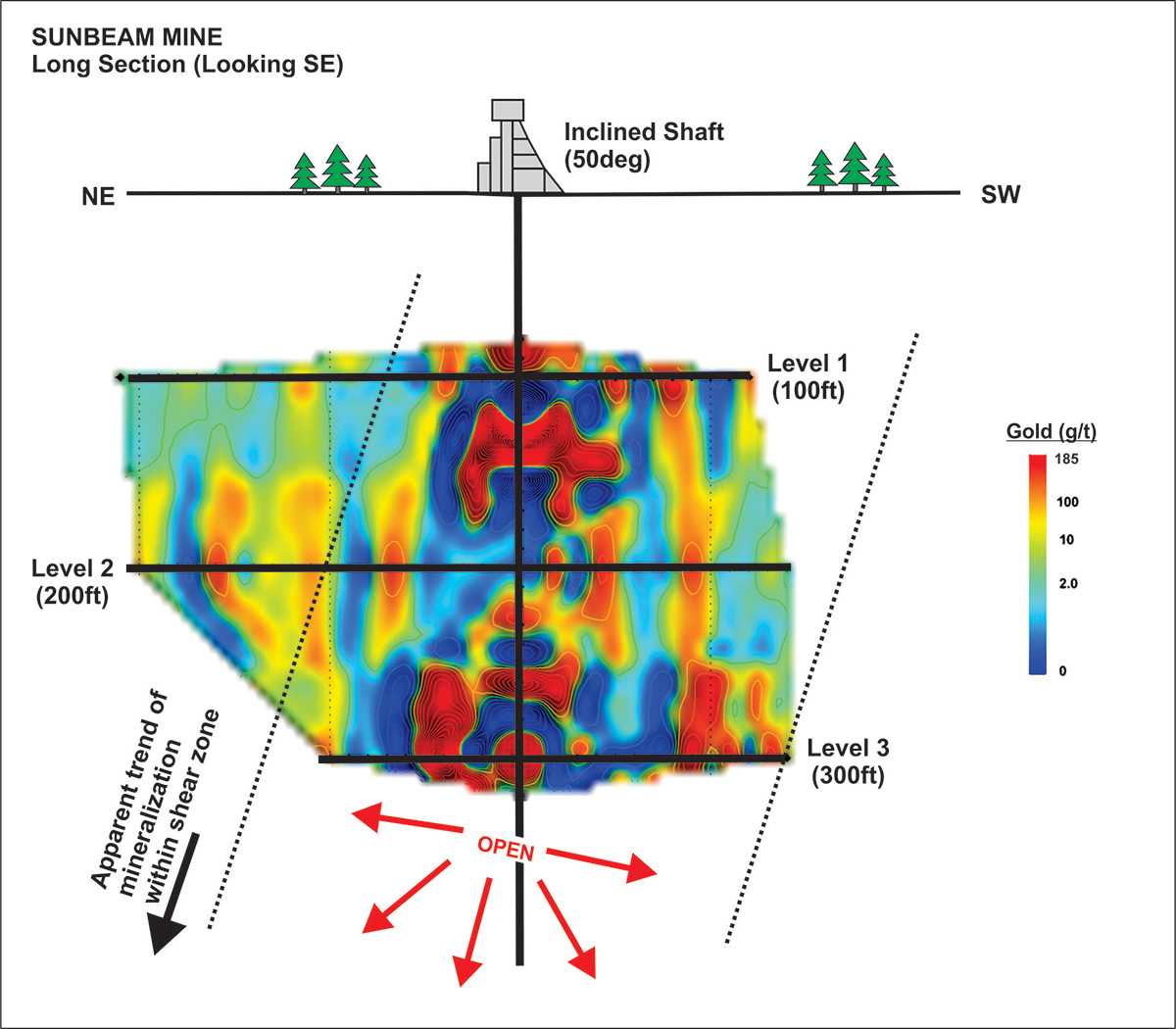 Nuinsco's sampling of dump material from the Sunbeam mine has returned assays of up to 122 g/t gold and 24.8 g/t silver (sample 351605; white quartz vein material collected from the dumps immediately adjacent to the upper Sunbeam shaft collar).
In 2018, Nuinsco cut approximately 19 line-kilometres over the Sunbeam Mine area and contracted Abitibi Geophysics to conduct an Orevision IP and ground magnetics survey over the grid (see Coles, 2018). The survey identified three shallow targets which could be investigated by prospecting / trenching and thirteen deeper targets. Sixteen diamond drill holes were proposed to test the thirteen deeper targets.
In February 2020, a small diamond drilling program was undertaken in the vicinity of the Sunbeam Mine. Two short holes totalling 180m in length were drilled. Both drill holes intersected a zone of quartz veins hosted by a chloritic shist/shear zone and flanked on both sides by a zone of altered trondhjemite. The best assay obtained was 0.11g/t Au over 0.42m in hole NS-20-01 (74.65 to 75.07m) in altered trondhjemite with 2-3% fine disseminated to blebby sulphides. The drilling was curtailed because of technical problems and difficulties with water supply.
In late 2020, the geophysical coverage of the Sunbeam mine area was expanded with the addition of 15 profiles (~15-line-kilometres) of Alpha IP conducted by Simcoe Geoscience along trend from the 2018 Abitibi survey. The interpretation received from the survey when added to the earlier geophysical coverage identified a number of chargeability/resistivity sources that define discontinuous anomalous domains of approximately 2,900m length along the trend of the Sunbeam-Roy lineament. These anomalous domains are spatially associated along strike and down-dip from known high-grade gold mineralization at the Sunbeam Mine as well as significant gold mineralization at the Road Zone and possibly the AL198 Zone.